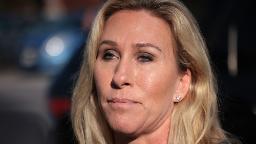 Why? Because Twitter has been her preferred method of communication since she came to Congress in 2021. (Yes, it seems like she has been around Washington longer than that to me too!) Taking away one of her accounts then effectively cuts off a major communications tool for Greene. (Her official congressional Twitter account — @RepMTG — is still up and running.)
The suspension of Greene's main Twitter presence also raises another question: What does she do all day?
Remember that Greene was
removed from all of her committees
by the Democratic-led House in February 2021 after a series of past posts advocating the execution of Democratic members of Congress and embracing elements of the QAnon conspiracy were unearthed online.
Committee work — particularly for a freshman in the minority party — is the backbone of many Members' experience. It's how you learn the intricacies of how Congress works. And it's how you build relationships — both in and out of your party — with your colleagues.
Which leaves Greene a whole lot of free time during her days as a member of Congress.
In the immediate aftermath of being removed from her committees, Greene spent her time filing motions to adjourn the House — a time-wasting maneuver with no real objective other than to annoy her colleagues. Four times in the space of two weeks in late February and early March of last year, Greene filed four separate motions to adjourn. Each time, every single member of the House had to come to the House floor and vote on whether the House should go out of session. Greene's tactic failed every single time.
"Unfortunately there are some Republicans that are unhappy with these type of floor procedures because it messes up their schedule. But Republican voters really don't like that type of Republican mentality up here. They really want Republicans to stand up and stop these radical crazy policies."
(Side bar: A motion to adjourn does nothing to "stop these radical crazy policies." But, I digress.)
1. A bill to award Kyle Rittenhouse a Congressional Gold Medal
3. A bill to give Congressional Gold Medals to police officers who served during various Black Lives Matters marches around the country in 2020.
4. The No Funding for Terrorists Act
5. The We Will Not Comply Act (The bill would ban any discrimination based on whether or not you've received the Covid-19 vaccine.)
6. The Fire Fauci Act
7. The Protect America First Act
8. The Gun Owner Privacy Act
9. The Second Amendment Preservation Act
10. A bill that would impeach President Joe Biden for his role in the pullout of American troops from Afghanistan
11. A bill that would impeach Biden
12. A(nother) bill that would impeach Biden
13. A bill to remove California Rep. Maxine Waters from the Financial Services Committee
14. A bill that would expel Waters from Congress
16. A(nother) bill that would impeach Biden
And that's it.
So, one quarter of Greene's legislative action over the past year has been aimed at impeaching the sitting president. And more than a third of her overall efforts are either about impeaching Biden or getting Waters thrown off of committees and/or expelled from Congress. Not one of the nine bills she proposed became law. Not one of the seven resolutions she proposed were approved by the full House.
Which, of course, doesn't matter to Greene. Her goal, legislatively and otherwise, is to get attention. Media attention primarily.
Greene is a new breed of Republican Members of Congress. She uses her platform not to legislate or move up the ranks of seniority or even to befriend colleagues but rather to build her brand. And that brand is as a unrepentant defender of former President Donald Trump and his "America First" policies.
Again, Greene is the new breed of Republican House member — one who has little interest in actually doing the job she was elected to do.