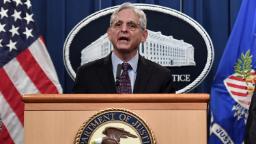 United States Capitol Police Chief Tom Manger said that his department fielded nearly 10,000 threats against members of Congress in 2021, marking the highest number of threats ever against the legislative branch 
"There's 9,000 a year, or this this past year, 9,600," he told reporters as he left after testifying before the Senate Rules Committee. "So you're getting multiple a day."
Earlier this week, Manger was doing an interview with the Washington Post's Tom Jackman when he received an alert of another threat. "I think it was an anonymous text, you know, of someone who was threatened to kill a senator. And you know, as I'm talking to [Jackman], this thing pops up on my phone." 
"It's every day. We're getting these kinds of these kinds of threats," he said. 
Manger said the department does not respond to every instance, because not every threat is considered credible, rather, "some of them are basically just sort of concerning statements."
"If you say 'I'm going to kill so and so' that's a threat. You know, we investigate that as a criminal act. Some of them are, you get something that say they'll call a congressman's office and say, 'Hey, I know where you live. I watched you walk your dog yesterday.' And you know, now, there's no law against that message. But is it of concern, certainly a concern to that particular congressman? Absolutely."
He said the threats have increased for the past four or five years, and more than doubling since four years ago. But at the same time, the force has suffered from a loss of officers, with Manger saying the current force is down 447 officers from where they should be.
"In 2017, I think there were somewhere around 4,000," he said. "Last year was 8,600. This year was 9,600. So the workload is increasing. We've increased the number of people who have worked at investigating strikes against Congress, but I'm telling you, we're barely keeping our heads above water."