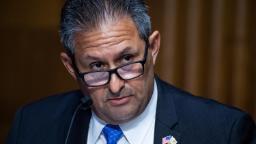 A Bureau of Prisons message to employees on Wednesday said that "after 30 years of service with the Federal Bureau of Prisons (BOP), Michael Carvajal, Director, this week notified Justice Department leadership of his plans to retire."
"At the request of the Attorney General, Director Carvajal has agreed to continue to lead the agency until a successor is named," the message said. "When his successor has been named, further details regarding Director Carvajal's retirement date will be provided."
Justice Department spokesperson Anthony Coley said in a statement, "We are very appreciative of Director Carvajal's service to the department over the last three decades. His operational experience and intimate knowledge of the Bureau of Prisons — the department's largest component — helped steer it during critical times, including during this historic pandemic."
Carvajal began his 30-year career at BOP in 1992 as a prison guard in Texas, according to the agency. He rose through the ranks, serving as a warden at two federal prisons until he was appointed by former Attorney General William Barr to lead the BOP.
"In the nearly two years since Director Carvajal was handpicked by then-Attorney General Bill Barr, he has failed to address the mounting crises in our nation's federal prison system, including failing to fully implement the landmark First Step Act," Durbin said in a Wednesday night statement, calling the resignation "an opportunity for new, reform-minded leadership at the Bureau of Prisons."
CNN has reached out to Grassley for comment.
Garland said in the message to employees that Carvajal's "career has been defined by his commitment to the bureau, to its mission, and to the people we all serve."
"I am extremely appreciative of Michael's decades of public service, most recently at the helm of one of the most complex missions in the federal government," the attorney general said.
This story has been updated with additional details Wednesday.