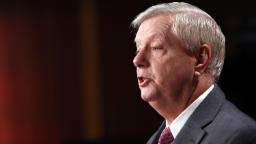 "What brazen politicization of January 6 by President Biden,"
tweeted Graham
. "I wonder if the Taliban who now rule Afghanistan with al-Qaeda elements present, contrary to President Biden's beliefs, are allowing this speech to be carried?"
Words fail.
In case you forgot — as Graham appears to — what happened on January 6 was this:
1) A large number of people came to Washington for a "Stop the Steal" rally heavily promoted by then-President Donald Trump in support of his false contention that the 2020 election was stolen from him.
3) Some portion of that crowd marched to the US Capitol, stormed the building — vandalizing and terrorizing as they went.
The January riot then was clearly political from the very start — a mob fed lies and egged on by the then-President of the United States.
Know who knew that? January 6, 2021 Lindsey Graham.
Know who else? January 7, 2021 Lindsey Graham.
Graham was so exercised by Trump's action on January 6 that he declared that their time together was over. On the following day, Graham acknowledged that Trump bore responsibility for the chaos at the Capitol.
But now, a year later, suddenly Graham is bashing Biden for making January 6 political?
All Graham is doing with this tweet is virtue signaling to Trump. See, I'm still loyal! I have your back!
Sorry, Senator. This one just doesn't pass the smell test.