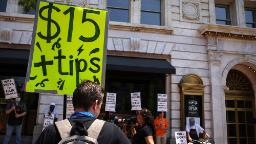 As 2022 begins, some states will enact pay bumps ranging from cents to dollars per hour.
Many of the increases will go into effect on Saturday, but New York's is set to begin on Friday.
In New York and seven other states, the increases are part of scheduled raises in efforts to reach $15 minimum wages in the years to come. The additional states are California, Delaware, Illinois, Maryland, Massachusetts, New Jersey and Rhode Island, according to a report from payroll experts at Wolters Kluwer Legal & Regulatory US, a company that provides finance, compliance and regulatory information.
States also increased rates because of previously approved legislation or
ballot initiatives
, and other state-mandated wage increases — in places like Arizona, Colorado, Maine, Minnesota, Montana, Ohio, South Dakota, Vermont and Washington — are due to automatic cost-of-living adjustments that are based on inflation.
Missouri voters passed a proposition in 2018 that gradually increases the statewide minimum wage to $12 over five years. Michigan, New Mexico and Virginia adopted similar legislation with $12 goals.
Connecticut, Oregon, Florida and Nevada will also see minimum wage increases, which go into effect later in the new year.
Federal efforts to increase the minimum wage
The federal minimum wage will remain at $7.25, a rate that hasn't moved since it began in 2009. The nearly 13-year period is the longest American workers have ever gone without a federally mandated bump in wages.
While federal legislation has been stagnant, some private companies have taken it upon themselves to increase their minimum wages. In September, Walmart raised its minimum wage to $12 per hour and Amazon hiked its average starting rate to $18.