Staying on top of social media trends and figuring out how to apply them to your social media campaigns is like trying to swim against a riptide.
Here's the good news: Podcasts offer a convenient way to keep up with the social media world. The best part? You can listen to them while you're cooking breakfast or going on a long commute.
But with the amount of social media marketing podcasts out there, it's hard to figure out which podcast shows are worth listening to.
So, what are the best social media marketing podcasts? To help you out, here's a list of social media podcasts to help you learn more about social media marketing and how to use it effectively to grow your business.
The list is as follows:
1. Social Media Marketing Podcast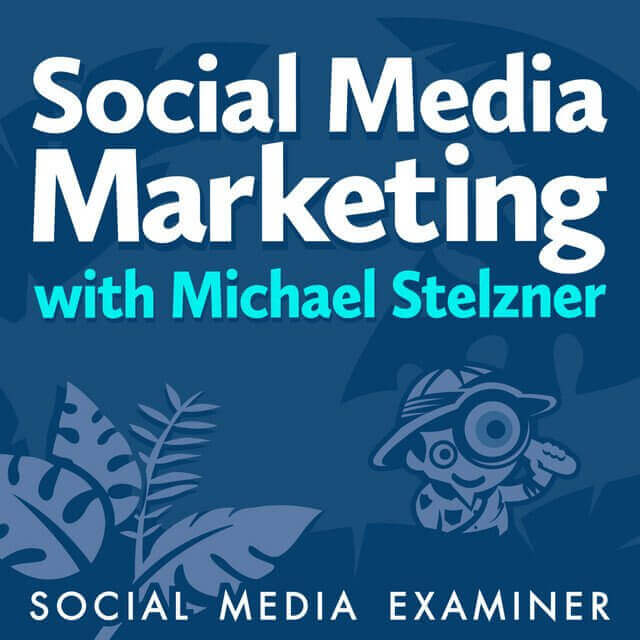 The Social Media Marketing Podcast is a weekly 45-minute podcast hosted by Michael Stelzner, founder of Social Media Examiner and the Social Media Marketing World conference. The show is about social media marketing, business building, and entrepreneurship. Launched in 2012, the Social Media Marketing Podcast has released over 500 episodes. 
On this podcast, you will find interviews with leading marketing experts across multiple disciplines and industries who share their knowledge on building and growing a successful business through social media marketing. 
As an interviewer, Michael Stelzner knows how to make his guests shine by drawing out their key insights and reframing them, so they become actionable to a listening audience.
What can I expect from this podcast?  
Thanks to Michael's ability to turn insights into actionable tips, each episode will leave you with valuable takeaways to help level up your social media marketing game. 
2. Social Pros Podcast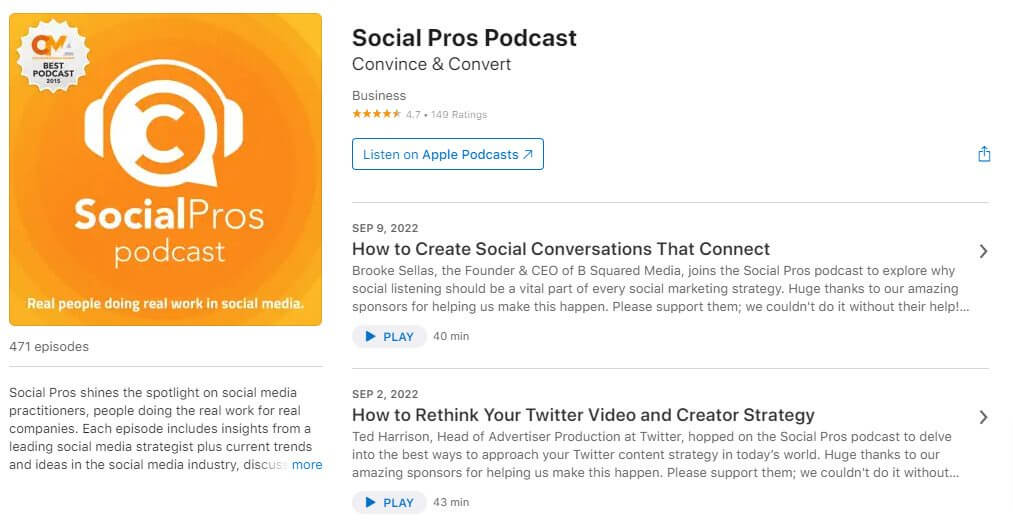 Social Pros Podcast is hosted by Jay Baer and Adam Brown of Convince and Convert and Salesforce, respectively. With over 450 episodes under its belt, the award-winning weekly show remains one of the best places to learn about social media marketing. 
On this podcast, Jay and Adam interview experts in the field to talk about what's happening in their respective domains and industries. The duo has interviewed industry giants like Seth Godin, Michael Stelzner, and Griffin Thall. The episodes last around 30 minutes and touch on several topics related to social media marketing.
What can I expect from this podcast? 
Jay and Adam draw on their wealth of information about achieving business success via social media, resulting in insightful conversations that help listeners understand what it takes to build a successful business in a saturated and competitive market.
3. The Good Social Media Podcast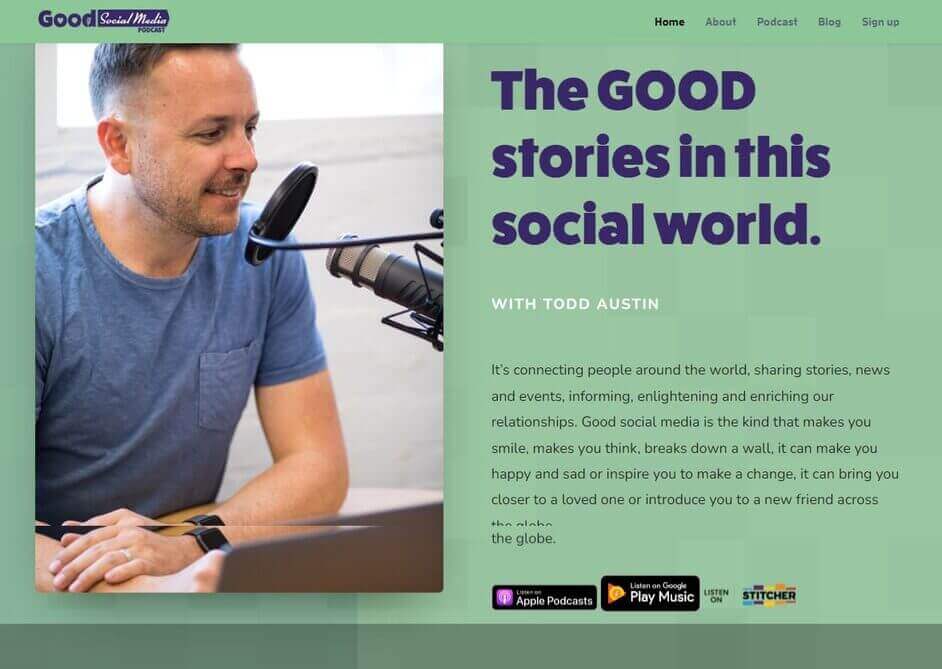 The Good Social Media Podcast offers inspiring stories about how social media connects us and helps us live richer lives. This is not your typical social media marketing podcast. Instead, it celebrates social media's capability to inspire us to make changes for the better. Most episodes run for 30 minutes.
The show is hosted by Todd Austin, a social media strategist and Facebook Ads expert who combines his experience in design, advertising, and social media to help brands connect with their audiences. He also teaches social media workshops with Digital Picnic.
The podcast reminds us in many ways how marketing is all about creating meaningful connections with customers, clients, and partners. It's a refreshing and uplifting way to view social media marketing. 
What can I expect from this podcast?
If you want inspiring stories about social media and want to listen to something uplifitng for a change, nothing beats the Good Social Media Podcast.
4. The GaryVee Audio Experience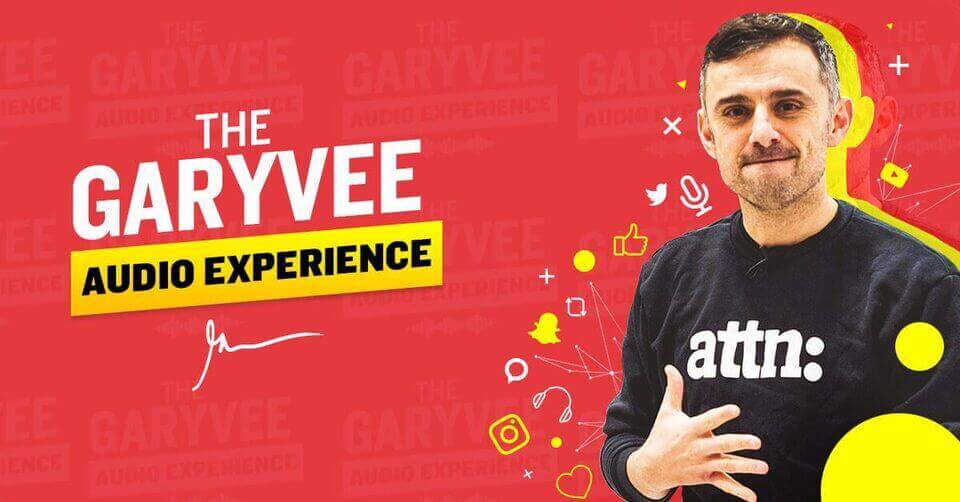 The GaryVee Audio Experience is a podcast covering a range of topics, including marketing, business, and personal development. The host is Gary Vaynerchuk, who has been a social media influencer for years now. He has built his brand around the idea that if you want to be successful in life or business, you need to talk about what makes you unique and interesting.
The podcast covers everything from starting your own company from scratch to turning clients into your biggest fans via social media. 
In this show, you can hear how he took a wine business from $4 million in annual sales to $10 million, his advice on building relationships with influencers, what he does when things don't go well (and how you can learn from them), and how social media impacts business decisions. The whole works, in other words. 
What can I expect from this podcast? 
You'll love Gary's knack for delivering advice on a raw and truthful level (if you don't mind the "F" bombs, that is).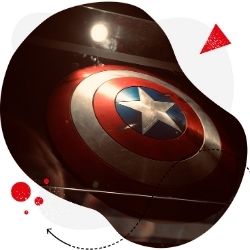 Protect your social media from offensive comments and SPAM
Automatically hide or delete comments containing spam under your organic posts and ads. Try it for free:
Try NapoleonCat free for 14 days. No credit card required.
5. Social Zoom Factor with Pam Moore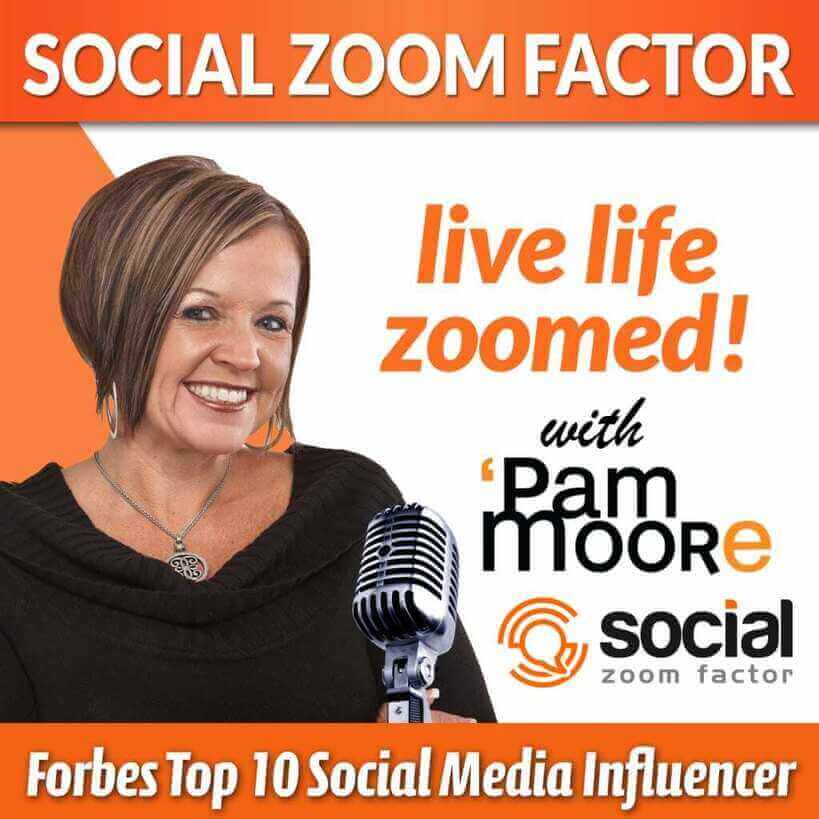 Social Zoom Factor is an online podcast that covers social media marketing from a variety of angles. Hosted by Marketing Nutz CEO and Founder Pam Moore, this podcast is a great way to learn more about how you can build an active presence on Facebook, Twitter, and Instagram using actionable tactics and strategies that go beyond best practices. 
Social Zoom Factor has become a household name in the social media marketing space with 100,000 downloads per month. 
Pam Moore produces 5 podcast episodes per week, each running around 20 minutes in length. The podcast covers a wide range of topics related to social media marketing – from best practices for content creation and strategy execution to tips on optimizing your social media marketing plan. 
What can I expect from this podcast?  
If you're looking for a no-nonsense and granular approach to social media strategy, planning, and tactics, you can rely on Pam Moore to provide you with the answers in a succinct but practical manner.
6. The Goal Digger Podcast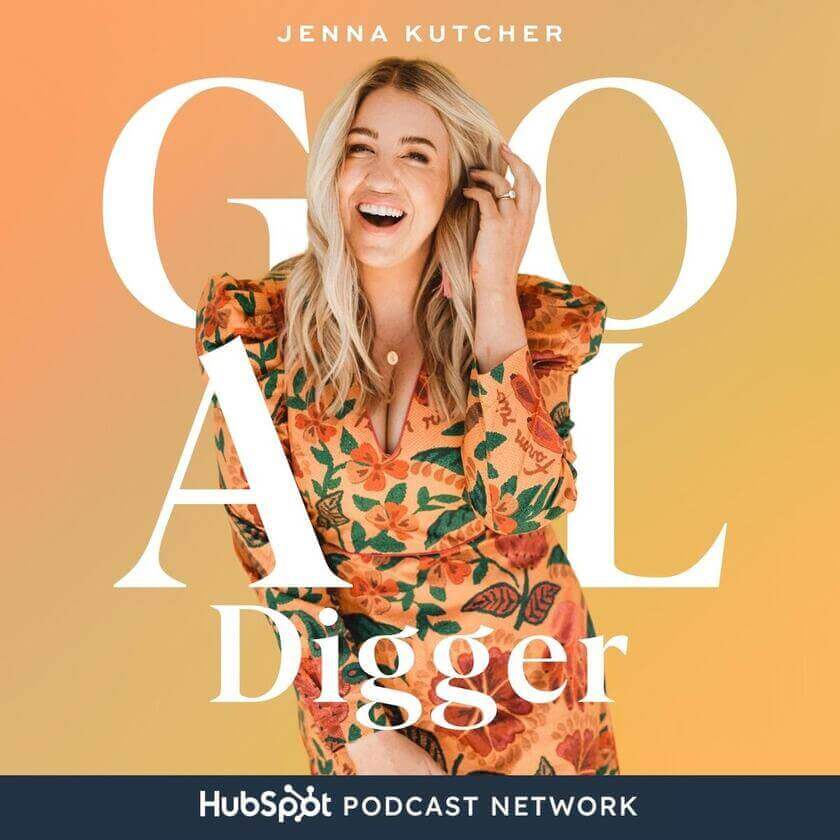 Goal Digger with Jenna Kutcher is a podcast that delivers tips, hacks, and advice on productivity, social media marketing, self-improvement, and business – with the ultimate goal of helping you design your dream career.
The first episode was released in 2016 and has since grown to include over 600 episodes. In each episode, Jenna Kutcher dives deep into a specific topic or strategy to help you grow your business. 
She's interviewed some of the best experts worldwide, including Amy Porterfield, Cathy Helle, Jamie Ivey, Lori Harder, and so much more. 
What can I expect from this podcast? 
If you want to hear insightful tips and valuable advice and be inspired at the same time, Jenna Kutcher, and the experts she invites on her show, have them in spades.
7. Waves Social Podcast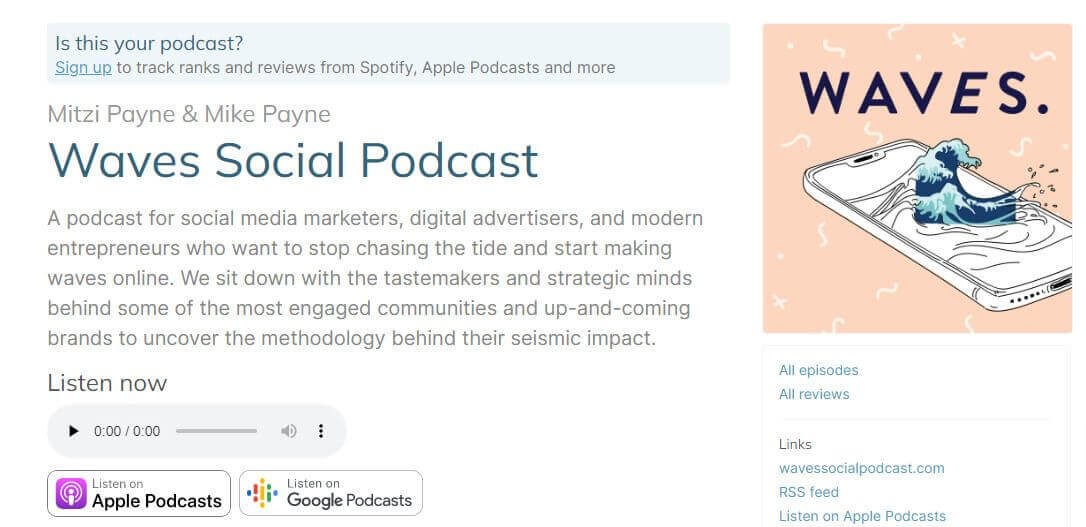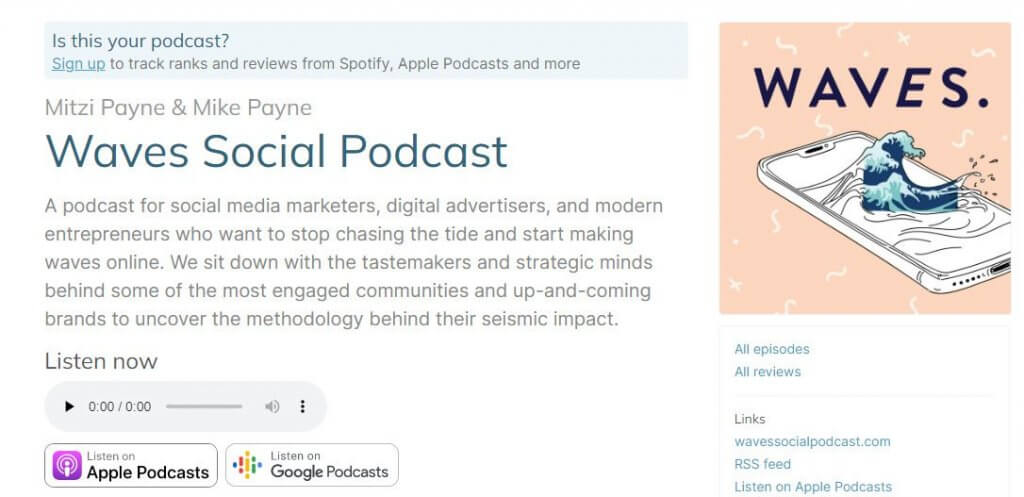 Waves Social Podcast is hosted by Mike and Mitzi Payne, both entrepreneurs and social media experts who share 20 years of marketing experience. Their goal is to teach you how to use social media so that you can "stop chasing the tide and start making waves online."
The show has a growing following on YouTube, Instagram, and Facebook. The hosts use their experiences in the industry to help brands build trust and increase engagement on platforms like Instagram and Facebook.
The duo covers everything from Facebook advertising to Google AdWords, Pinterest advertising strategies, and more. Each episode lasts about 1 hour long, so this one's perfect if you want to listen to something in-depth.
What can I expect from this podcast?
You can count on Mitzi and Mike to deliver the goods if you want to hear insightful conversations about social media marketing that inspire you and expand your horizons.
8. The Life of a Social Media Manager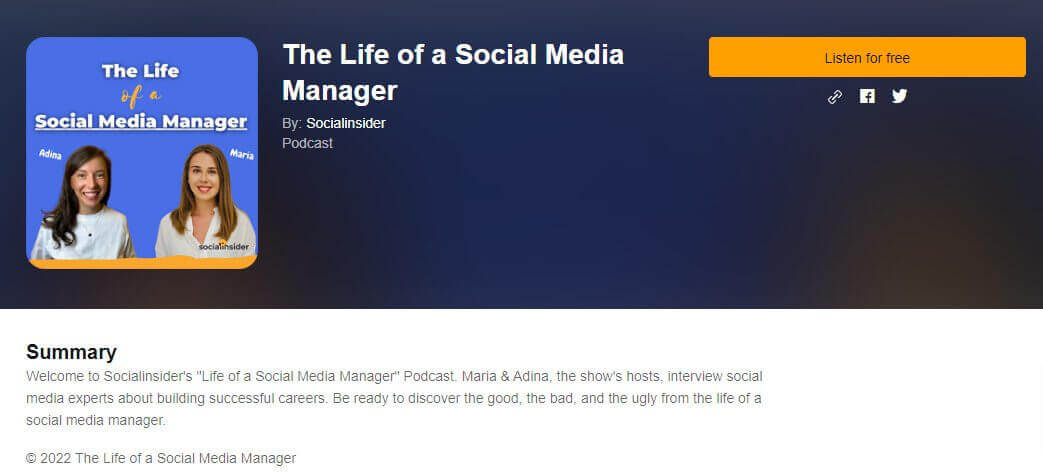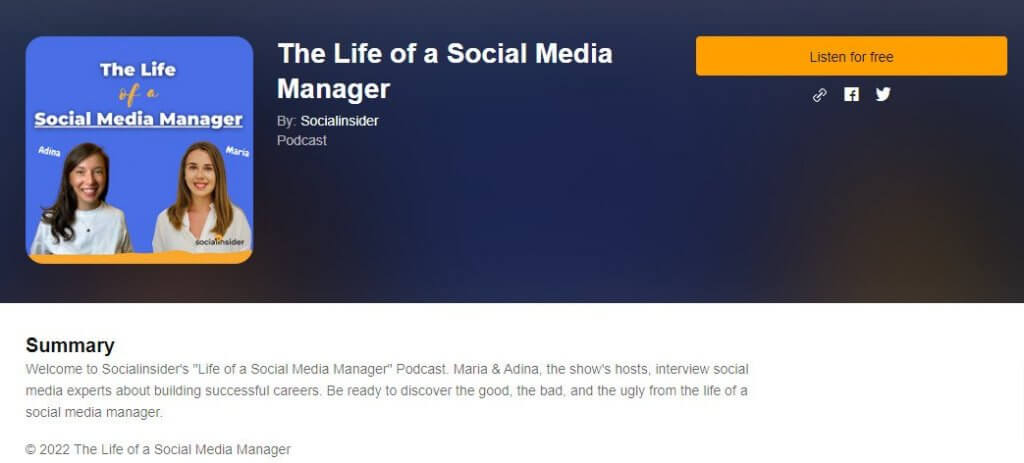 Social Insider's The Life of a Social Media Manager is a bi-weekly podcast that gives you the skinny on "the good, the bad, and the ugly from the life of a social media manager." Hosted by Maria & Adina, the podcast features an array of social media experts talking about their personal experiences in building a successful career in social media marketing.
The Life of A Social Media Manager looks at what makes some people successful in the industry, what you can learn from their mistakes, and how to apply them to your own business. The Life of A Social Media Manager Podcast is not just about being a social media manager. It's about learning from others and discovering how they got where they are today.
What can I expect from this podcast? 
You get tons of personal stories and actionable insights from leading experts as they share their struggles and the strategies they employed to achieve success in the world of social media.
9. Savvy Social Podcast with Andrea Jones


The Savvy Social Podcast is a weekly podcast that covers all things related to social media marketing. Hosted by Andrea Jones, Founder of OnlineDrea and creator of the Savvy Social School, the podcast offers interviews with industry experts on specific topics related to SMM. 
The interviews are designed to help you learn more about using your social channels to build a community of loyal and engaged followers. The episodes are packed full of valuable information that will help you get more value from your social channels and better understand how they can be used to grow your business or brand.
What can I expect from this podcast? 
No matter your level of expertise, Andrea Jones delivers in-depth insights and actionable tips in a way that reduces overwhelm. 
10. Online Marketing Made Easy Podcast with Amy Porterfield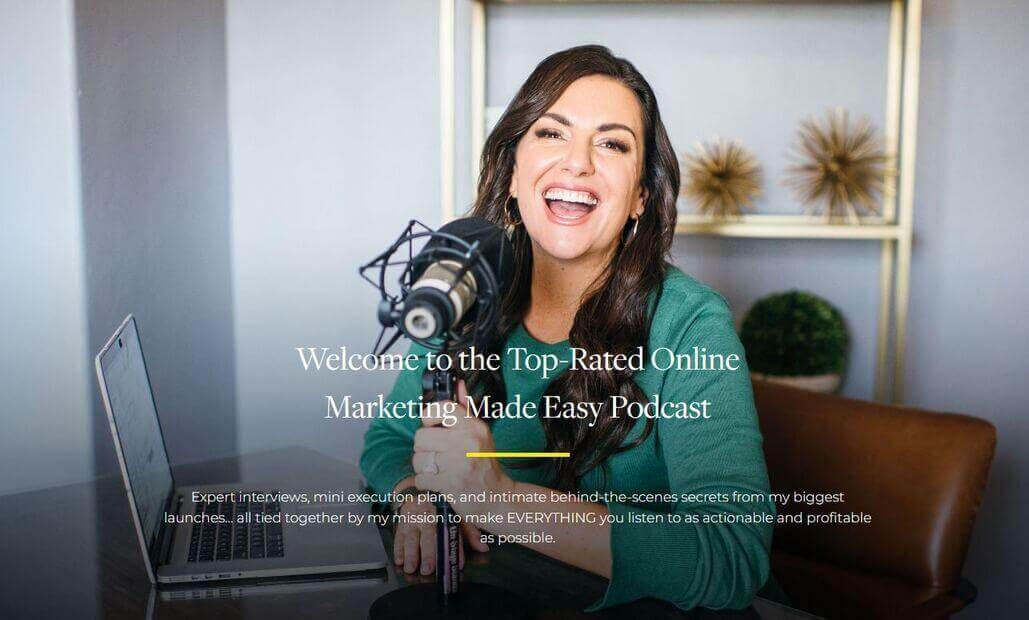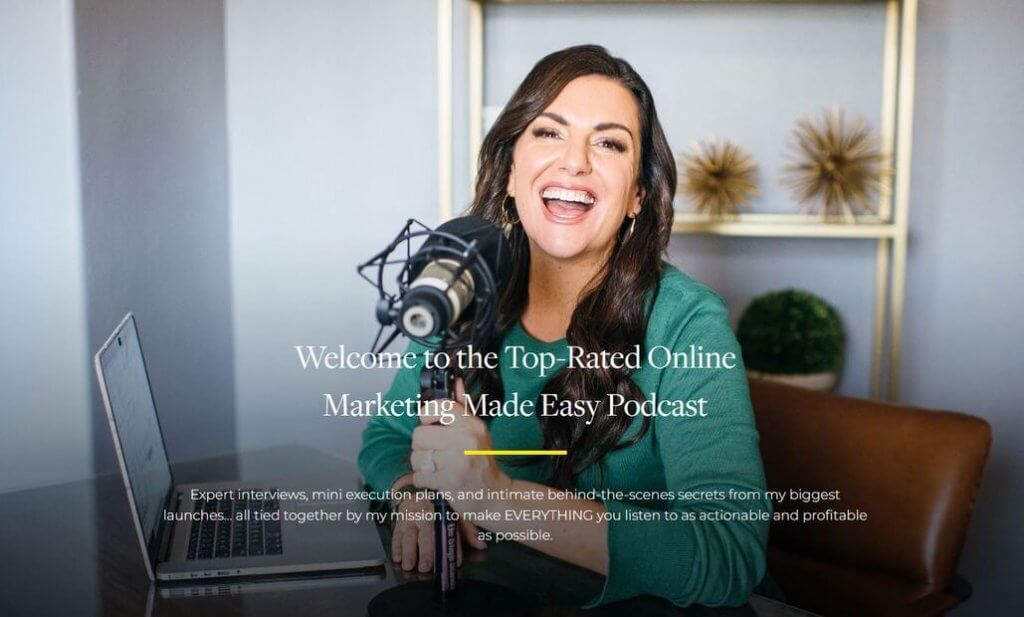 Online Marketing Made Easy Podcast with Amy Porterfield is a podcast that offers tips and advice on building a business you love. In this podcast, Amy interviews some of the best social media marketers in the world about their struggles and successes in the industry.
As one of Forbes's "Top 50 Social Power Influencers" and a co-author of Facebook Marketing All-in-One for Dummies, Amy Porterfield is a social media expert who has helped thousands of entrepreneurs and small business owners grow their businesses through social media marketing.
In her podcast, she talks to successful businesses about how they started their business and what made them successful. Amy has interviewed the likes of James Clear, Joanne Lee Molinaro, and Marie Forleo.
What can I expect from this podcast? 
This podcast will not only inspire you to build the business that you love through social media marketing but will also give you clear steps that will help you build and grow your business.
11. Maximize Your Social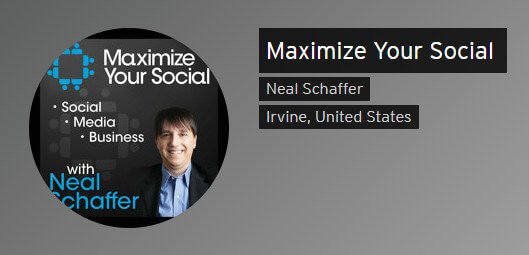 Maximize Your Social is a podcast hosted by social media strategy consultant and Age of Influence author Neal Schaffer. The podcast focuses on social media marketing and other topics like business, productivity, and personal development.
The episodes are short, at just 20 minutes each. They're often packed with great guests who have something to say about social media marketing or business in general.
What can I expect from this podcast?
The podcast offers great tips for small business owners as well as marketing experts who want to make the most of their social media efforts. 
12. The Social Bamboo Podcast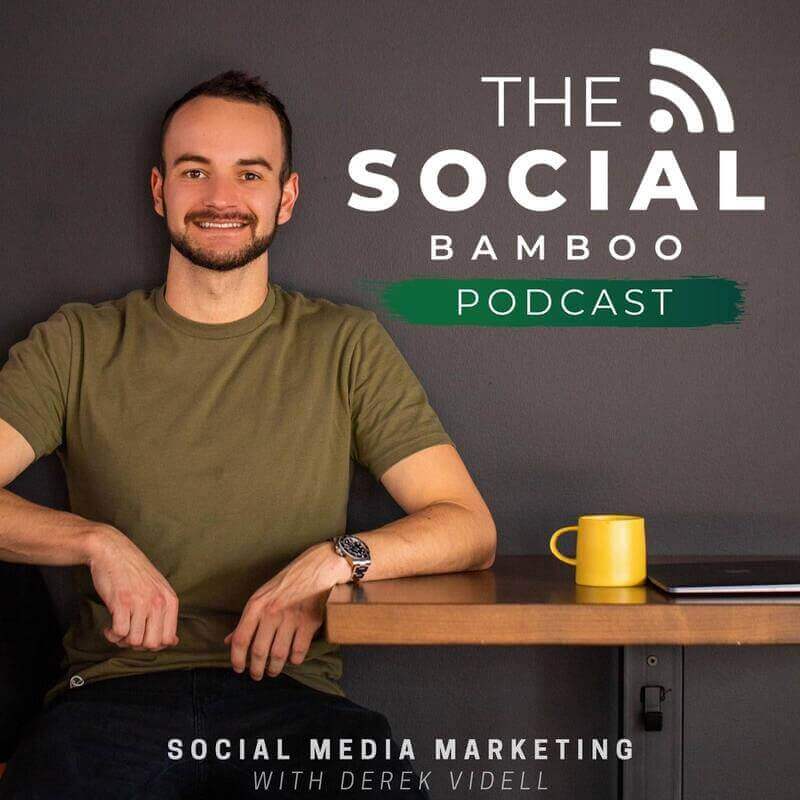 The Social Bamboo Podcast is a show that focuses on social media in the business world. It's hosted by Derek Videll, an HOF direct salesman turned online marketer who has helped some of the biggest brands create profitable Facebook/Instagram campaigns. 
Each episode of the Social Bamboo podcast features Derek talking about the latest research, trends, and analysis on various topics related to SMM. He also delivers mindset training to help you be an unstoppable entrepreneur. Expect a new episode every Monday and Thursday, each running between 15 and 30 minutes.
What can I expect from this podcast? 
Derek is not just extremely knowledgeable about all things related to social media. He is also a very engaging speaker. You will leave each episode equipped with actionable insights you can implement to boost your brand online.
Wrapping up
The best social media podcasts are the ones that you can listen to on the go and learn something new. You're busy, so it's important not only to find a podcast that fits your schedule but also one that can keep you engaged while you're doing other things like working out or cooking dinner. 
The main thing to remember when choosing your go-to social media podcasts is variety. Don't limit yourself by sticking with only one type of podcaster or one topic – look at all these options as potential resources for learning more about social media marketing.
As always, you can supplement what you've learned from podcasts by supercharging your social media marketing efforts with NapoleonCat. Using one convenient dashboard, the social media tool lets you schedule/publish posts and engage and support your customers on social media.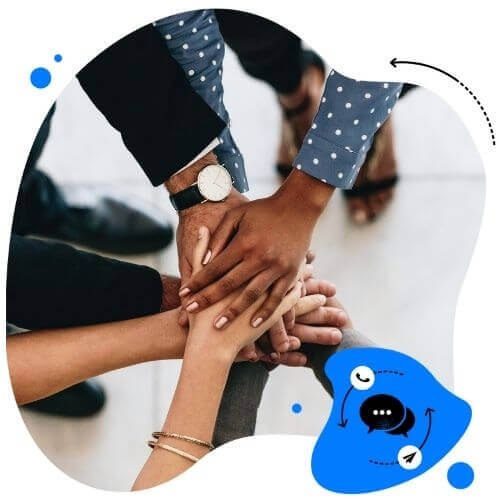 Social media moderation tool for teams
Moderate all comments and messages from one dashboard, individually or in a team. Instagram DMs and ads included! Try it for free:
Try NapoleonCat free for 14 days. No credit card required.